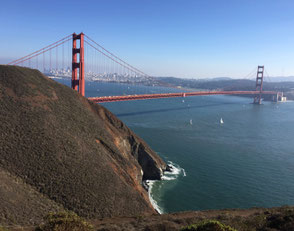 Our 3-year temporary relocation to the San Francisco Bay Area has drawn to a close, and we are getting ready to take an extended sabbatical to bike tour through South America. 
What's happening with Clark at SERA?
In February 2015, SERA Architects moved us from our home in Portland, Oregon, to the Bay Area in California for Clark to open SERA's first branch office. SERA's new office, currently in San Mateo but likely moving to Oakland later this year, now has 8 local employees, several new local clients, and a new leader that has taken over Clark's role as the firm's Bay Area Principal. Clark looks forward to returning to SERA in Portland when our trip is over.
What have we been doing while in California?
Wow - this region has a lot to offer! We explored the great outdoors from the coast to the Sierras, took advantage of the area's amazing riches of music, theater, visual arts and educational opportunities, played lots of disc golf and rode many a spectacular road ride, while also connecting with friends who live here and those who came to visit us.
Clark leveraged California's drought by becoming very involved in promoting on-site water reuse policy. Kacia joined San Francisco's city government in support of its 100% renewable energy goal. We had the opportunity to live in both Menlo Park and San Mateo, and got a sense for the great diversity of the Bay Area population.
What's next for us?
We've been renting our house in Portland to tenants since 2015, and will continue to do so while we travel. Movers will pick up all our stuff in San Mateo in mid-April and move it into storage in Portland. After visiting Portland at the end of April, we'll stay with Kacia's parents in May while we train and prepare for our trip. We will start our actual bike tour in Colombia in June. After our trip is complete (currently imagined as being in late 2019) we'll move back into our home in Portland.
Please Note: Any comments posted below will be public and viewed by all who visit this blog post. If you would like to contact us privately, please click the "Contact" tab at the top of the web page.