The history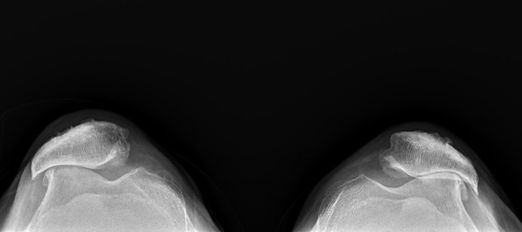 Greetings! Clark here…
We are in the final preparation phase of our trip, with June 14th set as our departure date to Medellín, Colombia. This, our second blog post, is covering a key pre-trip event that effectively made the trip possible: getting my kneecaps replaced… yes, you read right.
I've had chronic issues with my kneecaps for most of my life. Starting in high school, my kneecaps had a troubling tendency to severely dislocate, resulting in multiple events requiring ambulances, emergency rooms and anesthesia to get me fixed up. It turns out that these dislocations were really just symptoms, (and now I know warnings), of a major structural misalignment of my kneecaps which, as you can see in the x-ray image above, were tracking drastically to the outside of my knee joints. This means that the cartilage behind my kneecaps has been getting worn excessively my whole life, resulting in the painful bone-on-bone condition shown in the x-ray.
Even with these knees, I have managed to be quite active for most of my life, but chronic knee pain has led me to drop favorite activities, one by one. First, I had to quit playing Ultimate, then I quit mountaineering, and then a few years later I had to quit telemark skiing. Yet throughout all these setbacks, I was able to enjoy all types of cycling – from road cycling, to mountain biking, and multiple bike tours in Europe and Asia. So, we planned this bicycle tour of South America thinking that even though my knees were limiting my activity on a growing number of fronts, another big bike tour was still in the cards.
We were wrong.
The realization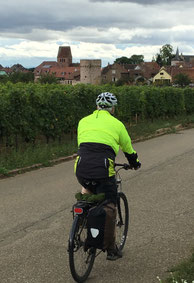 In September of 2017, 7 months before our planned departure on sabbatical, we visited friends in Germany near Strasbourg and the Alsace wine region in France. Our friends, knowing our love of both wine and cycling, offered us their touring bikes to do a lovely (and quite easy) 4-day bike tour through wine country. We set off thinking little about the cycling and reveling in the extraordinarily picturesque region.
On the second day of our 4-day ride, one of my knees swelled up in new and interesting ways… like it only had in the past after an intense day of running or skiing. That evening, in the guest house, Kacia and I looked at each other and said "Uh-oh" (or something a bit more colorful). We were 2+ years into planning our sabbatical, and my company, SERA, was fully engaged in hiring my replacement and helping me to depart gracefully. Kacia and I did not have a Plan B for a sabbatical without being able to cycle.
The solution
We came back from that trip concerned, yet determined to find a solution. Kacia did lots of internet research, and we met with 3 other surgeons before finding Dr. Alexander Sah, who conveyed calm confidence that a partial knee replacement surgery would be right for me, and that I would be able to embark on the bike tour following the procedure. This proved to have a major impact on me, both intellectual and emotional. My attitude changed overnight, from dreading and being resigned to inevitable knee replacement surgery someday later in life, to becoming super excited about it having it done now, while I'm still in my 50's. 
We scheduled surgeries for both knees, one in January and one in February. The specific surgery is patellofemoral arthroplasty which replaces my lost cartilage with new sliding surfaces. I now have new plastic buttons on the back of each of my kneecaps (invisible in the x-rays) that slide in new titanium-chrome grooves attached to my femurs. 
The outcome
In the before and after images below you can see that my kneecaps are now centered, with lots of space between the bones.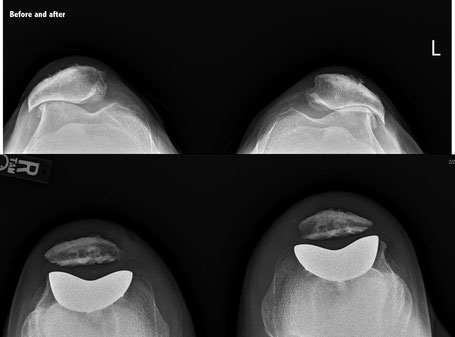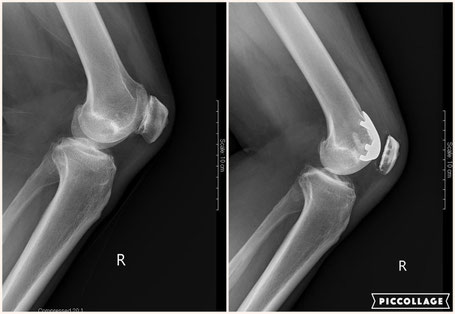 The results have been nothing short of amazing! After both surgeries, I walked out of the hospital to the car just hours after the procedure, and started physical therapy the next day. I was walking pretty normally after one week, driving after two weeks, and riding my bike in less than 3 weeks. And now, 3 ½ months after the 2nd surgery, I'm able to jog and run, and hike up and down hills without any pain -- things I haven't been able to do for over 20 years!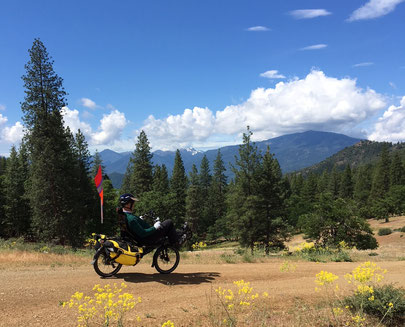 So I am now a walking, talking (running & cycling) advertisement for modern knee replacement. This has obviously enabled our trip, but even more importantly, it will enable Kacia and I to return to being active outdoors for the coming decades, which is transformational for both of us.
Regarding our trip, Kacia and I are now in full training mode, riding up grades as steep as 11% on 45-mile loops from Kacia's parents' house in Fort Jones, CA (near Mt Shasta).
You might notice that I am on a recumbent touring bike, a big departure from our touring bikes of the past. This will be a subject for an upcoming blog...
Please Note: Any comments posted below will be public and viewed by all who visit this blog post. If you would like to contact us privately, please click the "Contact" tab at the top of the web page.