Happy summer solstice! We're finally in Colombia (Medellín) so future stories and pictures will be from South America, but first we wanted to share this blog with you about some of what it has taken for us to get here…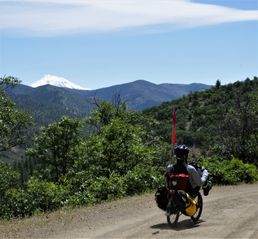 With our new recumbent bikes, Clark's new knees, and our plan to ride in the Andes, we knew we needed to seriously train for our trip. Our challenge was that we got our new bikes only 10 days before Clark's first knee surgery, and then he had to finish physical therapy before he could start riding hard. Therefore, we planned six weeks of training time after he finished therapy and his work at SERA. At the time, six weeks sounded luxurious. It turns out that we needed every minute.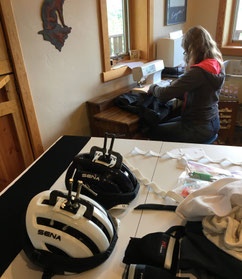 What mostly consumed our time was non-riding preparation. New bikes meant numerous customization projects. Traveling with new technology meant a steep learning curve (which we're still on). Traveling as adults who only recently exited the working world meant that we had a lot of mundane details of life to button up before leaving the country.
Our home base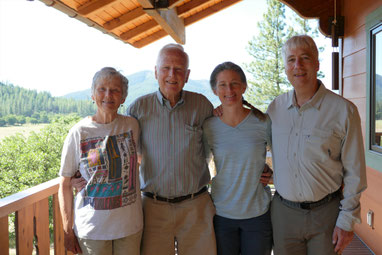 We are extremely grateful to Kacia's parents, Chuck and Harlowe Kittle, for hosting us in their beautiful home during those six weeks. We treasured our time with them, but quality time was limited by our lengthy (and seeming never-ending) to-do list. The outings we did muster together included biking, hiking and some local arts and culture. At home we walked the trails on their hillside, played cards and enjoyed daily asparagus and strawberries from their bountiful garden. They recommended fantastic training rides (all of which we started from their front door!). They also both contributed their substantial do-it-yourself expertise, tools and materials to our customization projects. We wouldn't have made it here without them!
Training rides
Springtime in the fertile Scott River Valley in Northern California under the still-snow-capped peaks of the Marble Mountains was the perfect training environment. From the end of the Kittles' driveway we turned left for steep gravel roads, or right for flatter, longer paved routes that usually included lunch at the Etna Brewery. All the routes offered minimal traffic, friendly drivers (who wave to you), cool days and beautiful scenery. Heavenly cycling indeed.

The culmination of our training rides was a round trip ride to Ashland, Oregon to visit our dear friends, Dot and John (whom we met during our cycle tour in Asia in 2001-2002) and to celebrate Dot's 90th birthday.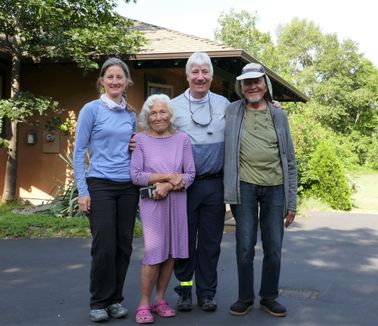 We rode four days and camped two nights. Each day we pedaled 40-50 miles and climbed 3000-4000 vertical feet on both paved and gravel roads, with two short, unpleasant stretches on Interstate 5. The trip was a big success, strengthening our muscles, and our confidence. 
Customization projects
Recumbent bike seats are miraculously comfortable… when you find the right seat angle and back support… until then, they are unbearable. After 5 weeks of trial and error with new mounting brackets, multiple padding arrangements and a customized headrest, Kacia finally felt the magic of her seat.
We have a generator hub in the front wheel that makes electricity while the wheel spins to power front and rear lights mounted to the bike. We wanted the option to use that electricity for charging our electronics instead (for when we're several days without electricity), so we custom-wired in a switch and charge controller that is designed to charge a cache battery. The jury is still out on how well the charging system actually works. Stay tuned for a report in a later blog.
The shape of the recumbent bike frame doesn't support standard water bottle mounts or a handlebar bag. So we bought a bag to hang our 3-liter hydration bladder from the seat, but replaced the bag's seat harness with a more stable design from which we can also hang the backpack containing our daily essentials like our tablet (and a frisbee).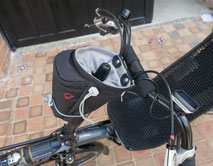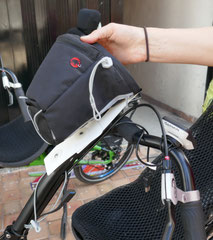 To create handlebar bags that would hold our cameras and cache batteries, and fit between our knees while pedaling, we modified rock climbing chalk bags and mounted them to our handlebars using an ingenious design by Chuck. Clark also concocted a platform to mount a GoPro on our helmets.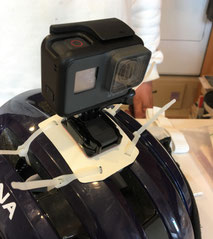 Technology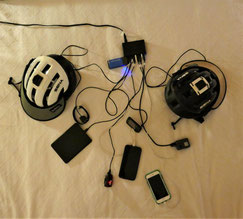 On our last big bike tour in 2001-2002, we had one full pannier nicknamed "the library" that was full of guide books, reading books, journals and maps. It's been replaced with two smart phones, a tablet and two e-readers. We've also added a GPS bike computer, a digital camera and a GoPro, rechargeable blinky lights, bluetooth helmets, two cache batteries, and all the requisite charging cables… wow.
We may not be smaller and lighter for all that technology, but we do have better navigation, ability to communicate with each other while riding (via the bluetooth helmets), ability to make local calls from the road, and more immediate connections to friends and family back home. 
Buttoning up our lives
When we left for Asia in 2001, we left our fully furnished home and pets to a house sitter. This time, we don't have pets, we put our stuff in storage and are renting out our house.
In 2001, we needed internet cafes to write emails, and stacks of coins at pay phones to make local and international calls. This time we have cell phones with sim cards for local calls, and wifi for international calls, emails and blogging. Almost all of our transactions are now conducted online – banking, bill paying, taxes, tenant agreements, blah-blah, etc., etc.
All of this has made it possible for us to continue to manage these parts of our lives while traveling abroad - but it has also taken some real effort to inventory everything, and ensure the infrastructure is in place (in the cloud) to make it all work. Now we're here, leaving Medellín tomorrow, and really beginning our adventure - we can't wait to start having the experiences we will be sharing with you in the coming months!
To see more photos from our six weeks of getting ready,  check out our photo gallery.