This, our last blog on Colombia, will cover more ground (literally and figuratively) than our last two. We have a few additional thoughts on Medellín, while also wanting to share some highlights from other cities and towns that we enjoyed between all of the natural experiences discussed in our last blog. And finally, we want to share at least some of the lasting impressions that this beautiful, biodiverse country and its gracious people have left with us. We've also finally uploaded a few videos to our video library. Check back for more in the future.
Medellín - it's changed
As we were telling folks at home that we were starting our South American trip in Medellín, Colombia, we repeatedly encountered two notions/preconceptions that we'd like to address (and dispel):


"Medellín s still a dangerous drug capital"

- not true.


Pablo Escobar

died in 1993, and his estates and his exploits are now

fodder for tourism and commerce

throughout the Medellin region. Note: We did not take the "Escobar" tour.



"Medellín is still at the center of an armed rebellion by the FARC"

(the

Revolutionary Armed Forces of Colombia

) - not true.
On 27 June 2017, FARC ceased to be an armed group, disarming itself and handing over its weapons to the

United Nations

.
To be sure, Medellín is a big, dense city, and has a full complement of the excitement, and challenges, that all big cities have. We haven't felt any safer, or more at risk, than we have when we've been in cities like San Francisco, London, Hong Kong or Delhi. And like those other cities, we found Medellin to be dynamic and rich in culture, while also displaying vast inequalities between those who have much, and those who don't.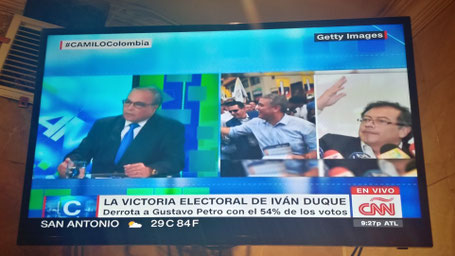 Our second day in Medellín (June 16) happened to be election day for their new president. A young populist, Ivan Duque was elected, with Mexico also following this trend in recent weeks. It makes for an interesting time for us to be in Latin America, understanding that it seems much of the world has been voting along this line in the last few years. During our time in Colombia, we queried many Colombianos about what they thought about their election (across a spectrum of folks that included a teacher, graphic artist, doctor, cab driver, mountain guide, guesthouse owner, and a restaurateur) and without exception they all said that this election is effectively a status quo result for the country, with little expectation/hope for change. They think those with money, power and influence got what they wanted, and that the rest of the country's people won't see measurable improvements in their lives.
Another interesting aspect is the unusual partnership between the city and one of its utilities, fostered by former Medellín Mayor Sergio Fajardo, to build new schools, libraries and parks in the city's less fortunate neighborhoods. Each serves as a center for education, culture and community. We had the opportunity to visit two of the libraries. We were moved by the scope of what the partnership set out to do and the public use of the spaces, but also sad to see that some of the buildings are now in disrepair… it seems that all governments wrestle with how to continue to fund the maintenance of the public infrastructure we build.
Guatapé's colorful zócalos
After Medellín , the next town we settled into was Guatapé. It's a tourist destination for its picturesque setting on a reservoir, its proximity to La Piedra de El Peñol (discussed in our last blog), and its colorful zócolos — relief paintings that adorn the exterior walls of the town's buildings. We're told that an artist started depicting scenes of town life on his house in 1919, and from there the art form spread throughout the town, and is now embraced as key to the town's character. The zócalos are wonderful, colorful and pretty comprehensive in their depiction of everyday life. We spent hours walking the town exploring the artwork.
During our visit, Guatapé hosted a small festival that included a short parade with neighboring villages  and an amazing open-air concert by Combo de las Estrellas, a prominent Colombian band, in the central square, a block from our hotel. Their musical styles ranged from Colombian to Mexican to Cuban, all done impeccably! They played until 2:00 am, so we went to sleep to the music. The next morning the square was empty, and spotless.
Manizales' mountainside charm
The city of Manizales (to which we got a ride in Omar's truck, as mentioned in our first Colombian blog) was the next place we set roots, after we'd ridden down through the Magdalena river valley and back up the eastern slopes of Colombia's central Andean mountain range. The city's dramatic setting on the flanks of the volcano Nevado del Ruiz provides many things, including the incredible views we saw during our golden hour tour of the City's main cathedral (Colombia's tallest), many natural hot springs (one of which we got to enjoy with Omar) and crazy-steep streets. It's also where Omar took us and his family to their favorite spot for arepas con chócolo, sweet, cheese-filled corn fritters that were our favorite food in Colombia.
Salento's Willys Jeeps
Salento is the town we settled into next, as it was at the end of our 3-day trek across Parque Los Nevados, and we needed a break! It is a beautiful town, with lots of intact historical buildings and the most well-developed tourist infrastructure we've seen since Medellín (think clean streets, well-tended historical buildings, good restaurants and dependable wifi). This is where Omar brought our bikes and bags to us, during what was apparently a typical Sunday, though it was crowded and felt like a festival. The town has an intense passion for restored Willys Jeeps, which are THE utility vehicle for the mountains and surrounding coffee-growing regions.  The Willys have turned into kitch icons and are the focus of the Yipao Festival. Lonely Planet tells us: "Willys jeeps are such an integral part of rural Colombian culture that a 'yipao' – which means a jeep full – is a legitimate measure of agricultural products in Colombia (it's about 20 to 25 sacks of oranges)".
Cali - artsy city in Colombia's breadbasket
From the coffee region, we rode the acacia tree-lined highway through the Valle del Cauca (Cauca river valley) which appeared to us to be Colombia's 'bread basket', full of large-scale agriculture, mostly sugar cane, and single semi trucks on the road that were pulling 5 loaded trailers! The valley took us to Cali, Colombia's 3rd largest city. — the first place we've seen fresh-squeezed sugar cane juice since being in Asia. We took a free walking tour of the city and learned some about its role in Simon Bolivar's revolution for the Americas' independence from Spain. Even though Cali was Columbia's first city to declare independence on July 3rd, Bogata's date of July 20th became the official date for the country's independence, to Cali's chagrin. We finished the tour at the Parque El Gato De Tejada, a fun public art project that uses cats to depict the varied qualities of Colombian culture.
Pasto's indigenous art
The heat and humidity of the valleys got the better of us, so we took a 6-hour bus ride from Cali to Pasto, so we could resume riding in the highlands. We found Pasto to be surprisingly affluent for a town high in the mountains, near the country's southern frontier. We discovered that it is the center of a historic art form, Barniz de Pasto ("pasture varnish") that forms the resin from the mapo-mapo tree into colorful, pliable, thin sheets that are cut and applied to wood.  We also thoroughly enjoyed the tour of Casona Taminango, a house/museum dating from the 17th century, which has been painstakingly restored/preserved.
Ipiales' gothic sanctuary
Before crossing into Ecuador, we visited the stunning Santurario Las Lajas - a neo-gothic stone church that spans a deep river gorge and is the site of an ancient miracle, drawing devotees from throughout Colombia. This site was a treasure in the otherwise unremarkable border town of Ipiales.
Our lasting impressions
Finally, we want to close by sharing some of the most indelible impressions that Colombia has left on us…
The food...
You've already read about our love of arepas con chócolo. We also loved the fresh fruit juice and hot chicken soup included with almost every meal. Omar taught us that dropping mild soft cheese into a cup of hot chocolate is both fun and tasty. Well-done pan-fried meat seems to be a staple dish, but we went for the delicious rotisserie chicken whenever possible. As is the case eating out just about everywhere in the world, there were far too few vegetables for our taste. Hot dogs appeared in far more of our meals than we expected, and we learned that that sugar is a key ingredient in breads, beverages, sauces, and salads. We liked the bland, salty fried green bananas, but we loved the sweet fried ripe bananas.
The people...
The people of Colombia are warm beyond belief, hard working, and very entrepreneurial. We found them to be passionate about families, and this extended into the public realm, as their public spaces, including parks, plazas, and especially malls, all had very extensive infrastructure for children, much more than we are used to in the USA. They love fútbol and cycling, and celebrate their national heroes in these sports.
In general...
Colombianos seemed (to us) to have a "we're in this together" attitude that gives strangers the benefit of the doubt, and this extended to us as they passed us on the roads. We saw fewer people smoking here than any country in the world that we've travelled to. They are unafraid of really steep streets… streets that San Francisco could only dream of, yet all vehicles, including buses, have manual transmissions. Their cities and towns have sporadic bike infrastructure, which we really appreciated, but we never found anyone with a map to show us where that infrastructure is. Their houses and their businesses are beautifully adorned with potted plants. There is a large middle class, and Renault appears to be their favorite car company. Colombianos are meticulously clean, and their homes, stores, restaurants and guest houses were spotless. But they haven't brought that passion to the commons, where trash is tossed along roadsides and into empty lots, and sidewalks suffer from lack of maintenance. Colombianos are remarkably compassionate to the downtrodden, from less fortunate people to feral animals, much much more so than we North Americans - we found this quite humbling.
Sing along!
We will leave you with the song, "Dulce Pecado" ("Sweet Sin"), which was, and likely still is, the most played song in Colombia (note: stay with the video until around the 50 sec mark for the first chorus, then imagine whole rooms of people spontaneously singing along). We heard it on our first day in the country, our last day, and all the days in between… it definitely leads our Colombia playlist.