A warning: This blog is longer than our past posts, as we have effectively included two blogs worth of material in one. You may want to consume it in multiple bites, rather than a meal. ;-)
As we left Ecuador's avenue of the volcanoes, we knew that the focus of our ride was changing to colonial cities and the beginning of many Inca and other pre-Columbian archaeology sites. We found changing terrain and a slightly warmer/drier climate along a less populated, less trafficked, more bucolic Panamerican highway. In addition, we found ourselves in a region where the indigenous peoples were the majority, and were in the throes of the quinoa harvest, a plant that is strikingly multicolored when it's ready to harvest.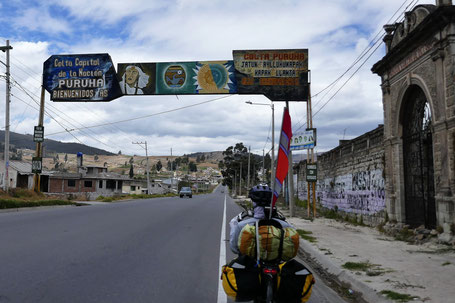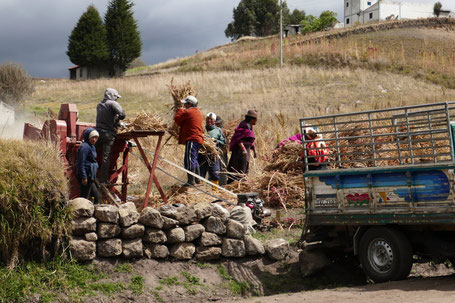 Inti Sisa Art Guesthouse
Inti Sisa is based in the Chimborazo province which has the highest population of indigenous people of all of Ecuador's provinces: 90%, compared to 25% nationwide. Their programs are designed to empower the local people with education, tools, and revenue to improve their standing in the country without sacrificing their traditional ways of life. Inti Sisa has a mobile computer lab that they take to the communities they serve, which is far more effective than asking folks who work on remote, high Andean farmland to come to town for classes and support with online resources. They have a sewing workshop with multiple (donated) sewing machines where people learn to sew and manufacture products for sale. They even have a high-tech digital embroidery machine that can add logos and such to their products - we saw merchandise for Tren Ecuador in production. They also provide free pre-kindergarten education for local kids, which doubles as day-care for the children of parents participating in their workshops.
Our first stop was Guamote, where we stayed at the excellent Inti Sisa Art Guesthouse, which is run by a Belgian nonprofit to fund its mission of providing employment, education and training for the local population, both indigenous and mestizo. The guesthouse and its programs are run by a staff of two belgians, Eva and Tom, as well as a number of local residents who all receiving a living wage and paid vacation (which is very unusual in the rural areas). Eva came to Inti Sisa as a volunteer 7-8 years ago, expecting to stay only a year… but she's still there, and even though she's a gringo she's become an accepted part of the community, and has built a house in Guamote. She took us on a tour of Inti Sisa and some of the surrounding indigenous communities, and it proved to be one of the most educational and enlightening days of our trip thus far!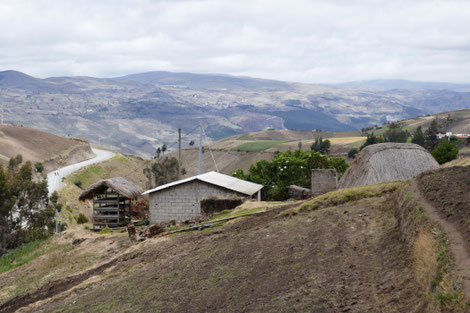 Eva then took us on a driving tour of some of the indigenous hamlets above Guamote.
[Note: Guamote is at elevation 3,083 m (10,115 feet) and the hamlets were at elevations ranging from 3,500 m (11,480 feet) to 3,900 m (12,800 feet) making travel/transport to/from these hamlets that much more challenging.]
We noticed that there were new streetlights along this otherwise high, remote road. It seemed an interesting example of the federal government investing in visible infrastructure, possibly to curry favor with the locals (who vote). We doubted that, if asked by the government, the locals would have listed streetlights as their highest priority.
We first visited the home of one of the first local families to participate with Inti Sisa, where a young woman was plowing a steep field adjacent to her home with a hoe. She was one of Inti Sisa's paid staff, and this is what she did on her day off. Looking over the hillside, we saw that most families had both a traditional one room hut (choza) made of adobe with a thatched roof, and a government-provided concrete block house with a bathroom (on a septic system). The family we visited used the government house for storage, and lived in the choza where they cook and sleep in the same room. The woman's mother only speaks Quechua, so Eva asked the granddaughter to translate for her during our visit. There was warm rice porridge on the stove, which was immediately offered to us when we entered - hospitality to strangers is a part of their culture. We then tramped alongside a freshly plowed field to the brother's house, where he had recently built a new choza to house their guinea pigs that they raise for food. It turns out that he is the contractor Eva uses both at Inti Sisa and for her own home, and his pride in his work shone through. We were particularly taken by the grass braids draped on the new thatch roof to protect it from the significant winds in the region.
Our next stop was a 4-generation home of spinners and weavers of wool. We were greeted by a young woman who was spinning as she walked (the raw wool was wrapped on a stick that was stuck in her belt, so that both hands were free to spin as she walked -- we continue to see this as we travel south). She took us into their one-room house where there was a large loom, on which the grandfather was weaving a colorful blanket, while the rest of the family was involved in cooking, childcare and spinning.
We then drove through multiple communities, each with a church surrounded by homes with farms, most only accessed by foot. Finally, we asked to visit Eva's personally designed and built house, complete with round windows, embedded bottles for colorful light, a floating stair and a menagerie of animals, most of them rescued, including 7 dogs (at least 3 of which had only three legs), 2 cats, a horse and a pig.
When we got back to the guesthouse, we were pleasantly surprised to see another couple arrive on bicycles: Stephano and Tracey from Austrailia are "bike packing" in South America for 7 months and unlike us, are primarily riding dirt roads (they started their trip following the Trans Ecuador Mountain Bike Route). This means we're criss-crossing each other's paths and occasionally intersecting at cities, as we're both heading south.
Alausi
Our next destination was Alausí, a small town that surprised us with its beauty and picturesque setting. The town is dominated by a huge statue of their patron St. Peter that watches over the town, but the real reason to come here is to ride the train that traverses Nariz Del Diablo (The Devil's Nose). Now just a tourist train, it used to be a key transport link between Guayaquil on the coast and Quito in the mountains. It descends over 900 m (~3,000 feet) through a river gorge and down a cliff, using a creative zig-zag solution developed by two train engineers from the United States in the late 1800s. If you're intrigued, there's a great article on the "Interesting Engineering" website that chronicles the train route's ambition, and the travails during its making (e.g. more than 3,000 people died during its construction). Once at the bottom we were treated to a dance performance by members of the local indigenous community, who even succeeded in dragging Clark out onto the dance floor.
Riding to Ingapirca
The next day we had set a big riding goal for ourselves of 77 km, 2,100 m of ascent, and 1,500 m of descent that included dramatic and changing views as we approached the edge of the mountains, with only a sea of clouds beyond (covering the coastal lowlands and the ocean) before we turned inland once again to climb over the next mountain pass. We happened upon a local parade and festival in a small, one-road town located midway down a massive mountain where they were holding a pageant with several contestants, each who had their own float.
After 7 hours of pedaling, we arrived just minutes before sunset in the very small town of Zhud, which we had targeted due to a guesthouse being shown on Google maps - only to find that it wasn't there. The locals directed us to the police, who gave us permission to camp in a garage stall next to the police station (clearly we weren't the first bike tourers to do this.) Our only meal option was "Cerdo Fritada" (fried skin-on pork served with boiled hominy and toasted corn) which was a dramatic visual (and culinary) experience - each restaurant had a whole pig hanging out in front (right at the roadside) from which they carved off hunks that then got boiled and then really deep-fried in huge vats.
Ingapirca
Our big ride was intended to get us close to Ingapirca, considered by many to be Ecuador's premier archaeological site, and near the northern tip of the Inca empire. The site has an amazing, natural amphitheater setting, with grand views of the valleys below, and the peaks of their watershed above. It was originally Cañari before the Inca came and co-opted the special site as their own, and added a Temple of the Sun which was in perfect alignment on the solstices, as was the Inca way. It clearly exhibited the jaw-droppingly amazing, mortarless stonework of the Inca, which has no equal that we've seen anywhere in the world. Our guide also told us that it is the only Inca temple known to have curved walls. We were glad to get to see it as we head south into Peru, knowing that we'll be seeing a multitude of Inca sites going southward, all the way into Chile and Argentina.
Riding to Cuenca
From Ingapirca we had a cold and mostly wet ride to Cuenca, Ecuador's third largest city. It started with a 10 km dirt road climb through dairy farm country, which appeared to us to be a good line of work given the size and quality of houses we passed. We got to the pass (3,532 m) where we stopped to put on virtually every stitch of clothing we own - i.e. neoprene booties, rain pants, dry shirt, wool sweater, down coat, raincoat and heavier gloves over lighter gloves! We rode downriver for the first 40-50 km, then back up a slight river grade to Cuenca for 20 km, passing a whole zone of "sex hotels" 15 km out of town (they were obvious due to their names, surrounded by high walls, and an individual, enclosed parking stall for each room.) Upon entering Cuenca, our map's route took us to a massive construction zone for Cuenca's new light rail, making the 15 min ride to our hotel turn into an hour of re-routing and eventually pushing our bikes through the construction site.
Cuenca
Cuenca is a beautiful city where their historic old town area is a UNESCO World Heritage site. It's set in a large valley with four rivers that are part of the Amazon watershed, that's been inhabited since 8,000 b.c. The name means "Basin made by the confluence of rivers". The town and the river were cleaner than any place we've visited on the entire trip - it is interesting to see what happens to places when they become world heritage sites - the level of investment goes way up.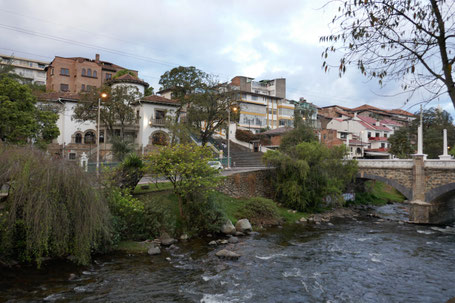 Highlights for us from Cuenca include:
Our lasting impressions
As we did with Colombia, we want to share some of the things we'll remember most about Ecuador...
The food
We came to love llapingachos - orange colored mashed potatoes patties with a fried egg on top, served with avacado and hornado (whole roast pig). We were told by a local on the Quilotoa loop that achiote (sometimes called the "lipstick tree") is the herb/spice they add to the potatoes to make them orange, and that this plant is used by indigenous peoples to color their hair and skin to protect from evil spirits.
We discovered babaco fruit, which looks like a giant, elongated starfruit. We ate it once for dessert in a syrup, and once as a juice smoothie, then had a market vendor help us pick a ripe one to just eat.
And the canelazo cocktail became our new favorite warm drink as it came many times as a before dinner cocktail, given to us as we arrive at guesthouses. Yum.
Traffic law adherance
One observation that we now realize we'll be tracking in each country is the relative adherence to traffic laws. Ecuador was noticeably more law-abiding than Colombia: they tended to stay in their lanes, stop for red lights, and refrain from passing on blind corners. Their observance of the seat belt law was more "relaxed", however -- on multiple occasions in rural areas, we saw our driver buckle their seatbelt as they entered an urban area, and then unbuckle it as soon as they left the urban area. These are small, unscientific observations, but we definitely have gotten a different sense in each country, finding Colombia to be a little more "wild west" than Ecuador, and now finding Peru to be somewhere in between Colombia and Ecuador… stay tuned.
National politics
Through discussions with a number of Ecuadorians, we slowly came to understand (at least a little bit) their complex political situation: In April 2017, the country's newly elected president, Lenín Moreno, took power, but since being elected has attacked the past president, Rafael Correa, including accusing him of crimes while in office. Amazingly, they are from the same political party, and Moreno was Correa's vice president for 6 years. Recently, President Moreno was kicked out of that political party, but still serves as president. Let's just say that politics are complicated here.
The people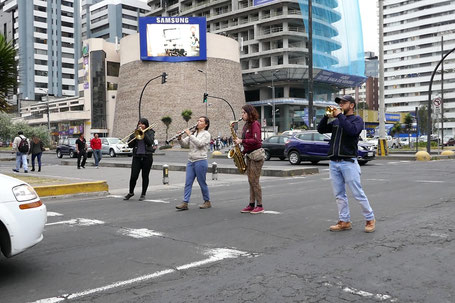 The people of Ecuador were very warm and welcoming to us. They greeted us with a soft warm handshake, many times with both hands and with multiple handshakes per encounter. We found the indigenous people to be more reserved than the mestizos, but they too would warm up as soon as we gave them a wave, a big smile and a verbal greeting. We observed a lot of very young parents, and noticed that many truck and taxi drivers had their wife and child with them in the front seat the vehicle while they worked. They are entrepreneurial in many ways, one of which being the multitude of folks who step out into intersections to entertain cars at stop lights with juggling, dancing, fire eating and even a musical quartet!
Our Ecuador "soundtrack"
As we did when we left Colombia, we want to share with you some of the songs that will make up our Ecuadorian "soundtrack". This time there were two songs tied for the most-heard throughout the country: Te Boté (something like "I threw you out"- note: the video is racy and not-so-nice) and No Te Voy a Negar (roughly "I won't deny you"). Not only were they ubiquitous on radios and TVs in cities, small towns, and car radios passing us by, but they are so popular that many remixes of them have been made. But the music we will remember most, and most fondly, is that of guitarist Luis Ullauri (shown in the image), who we had the amazing pleasure of seeing live in Cuenca at a laid-back jazz concert in a beautiful colonial hotel's courtyard. Here are links to the only three videos we've been able to find of him: Y Nada Más ("And Nothing More"), Esto No Es Elegía ("This Is Not An Elegy"), El Breve Espacio En Que No Estás (something like "The Brief Space In Which You Are Not").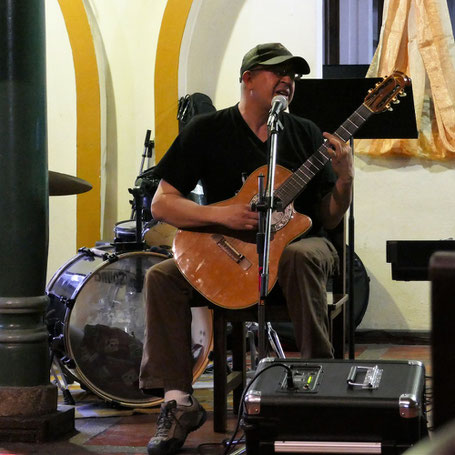 A final thought
We'll leave you with this musing, written by the German natural scientist Alexander von Humboldt around 1802:
Ecuadorians are strange and unique beings,
they sleep peacefully
amid smoking volcanoes,
they live in poverty
amid unimaginable riches,
and they are made happy with sad music.